In a world where environmental consciousness is paramount, the realm of sustainable packaging design is undergoing a transformative shift. Beyond the conventional practices, innovative strategies are emerging to create eco-friendly packaging solutions that minimize environmental impact. This article delves into a list of creative and forward-thinking approaches that challenge the status quo and redefine the future of packaging.
Edible Packaging: Merging Function and Consumption
Edible packaging takes sustainability to a new level by offering an unexpected yet practical solution. Packaging materials made from edible substances, such as seaweed or rice, can serve a dual purpose—protecting the product and providing an edible treat. This approach eliminates waste and showcases how packaging can be an enjoyable part of the consumption experience.
Minimalistic Design: Less is More
Simplicity reigns in the realm of sustainable packaging design. Minimalistic designs not only reduce material waste but also convey a sense of elegance and sophistication. The "less is more" philosophy focuses on essential information and branding elements, creating an uncluttered visual appeal that resonates with environmentally conscious consumers.
Reusable Packaging: Transforming Packaging into a Keepsake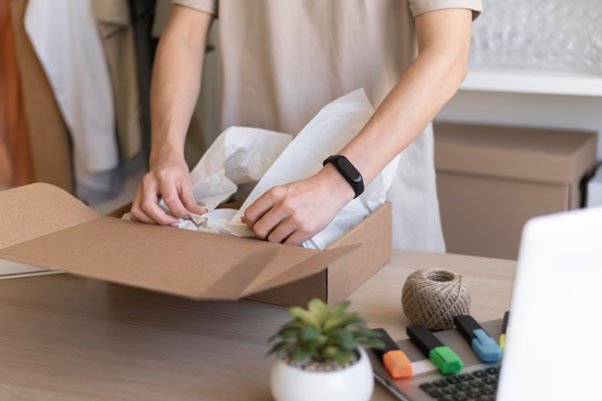 Breaking away from the disposable packaging norm, reusable packaging encourages customers to hold onto the packaging even after the product has been consumed. This concept transforms packaging into a keepsake or a functional item, prolonging its lifespan and reducing the need for single-use materials.
Upcycled Materials: Breathing New Life Into Waste
Upcycling involves repurposing discarded materials to create new packaging designs. By utilizing materials like reclaimed wood, discarded textiles, or post-consumer plastics, brands can contribute to waste reduction while adding a touch of uniqueness and authenticity to their products.
Plant-Based Plastics: A Greener Alternative
Plant-based plastics, also known as bioplastics, are derived from renewable resources such as corn, sugarcane, or algae. These materials provide a more sustainable option as compared to traditional petroleum-based plastics, lowering reliance on fossil fuels and minimizing the carbon footprint associated with packaging production.
Smart Packaging: Enhancing User Experience
Incorporating technology into packaging design can offer a range of benefits, from extending product shelf life to enhancing user experience. Smart packaging can include features like QR codes for recycling information, temperature-sensitive labels to indicate freshness, or interactive elements that engage consumers in sustainability initiatives.
Furoshiki Wrapping: Embracing Tradition
Derived from Japanese culture, furoshiki is a method of wrapping objects in cloth. This eco-friendly practice is making a resurgence as a sustainable packaging option. Brands can use fabric wraps that customers can repurpose, reflecting a cultural appreciation for sustainable living.
Seed-Embedded Packaging: From Waste to Greenery
Seed-embedded packaging merges packaging and reforestation efforts. Made from biodegradable materials embedded with seeds, this packaging can be planted after use, transforming waste into a source of greenery. It's a symbol of regeneration and a tangible way for brands to contribute positively to the environment.
Modular Packaging: Customization and Flexibility
Modular packaging allows consumers to customize their packaging experience. By incorporating separate compartments or layers, brands can reduce packaging waste and offer options for portion control. This design strategy aligns with the growing trend of consumers seeking personalized and adaptable solutions. This type of packaging solution also helps brands cut down on their packaging storage needs, thus making their whole setup more efficient.
Modular Reassembly: Transforming Packaging into Functional Objects
Modular reassembly takes sustainable packaging to the next level by turning packaging components into usable items. Brands can design packaging that can be disassembled and reassembled to create functional objects, such as furniture, storage solutions, or even toys. This approach not only reduces waste but also adds value to the packaging itself, encouraging consumers to repurpose and engage with the materials in creative ways.
Transparent Sustainability: Sharing the Journey
Incorporating transparency into packaging design involves sharing the sustainability journey with consumers. This can include details about materials used, sourcing practices, and the environmental impact of the packaging. Transparent packaging aligns with consumer demands for honesty and authenticity.
Go Green with Sustainable Packaging Design Today
Innovation in sustainable packaging design goes beyond materials and aesthetics. It involves reimagining the entire packaging experience, from functionality to environmental impact. By embracing unconventional approaches such as edible packaging, upcycled materials, and smart packaging, brands can lead the way in reducing waste and promoting sustainable consumption.
To explore these innovative strategies further and implement them into your brand's packaging design, consider the expertise of The Studio Bridge. Our commitment to creativity and sustainability can elevate your packaging design while contributing positively to the planet.