From sterile to stunning, meh to memorable. Giving your brand the "oomph" to attract consumers attention requires magic of the digital variety. 
We're talking about postproduction, of course.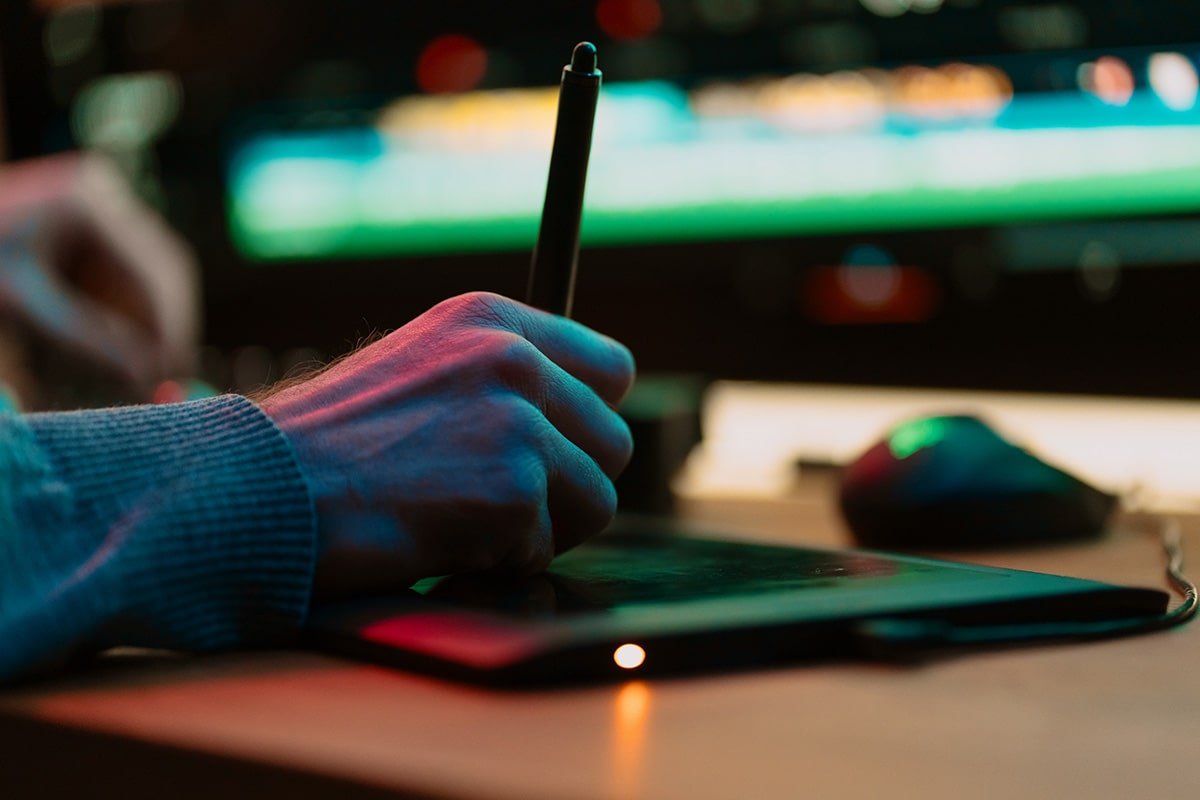 A service The Studio Bridge specializes in, post-production is where our team of animators, VFX artists, and editors transform raw footage, still images, and audio into commercial videos that meet our clients' aesthetic, narrative, and business objectives.
In this step-by-step guide, The Studio Bridge will walk you through the key stages of digital post-production, from organizing and importing media to finalizing the project.
STEP 1: ORGANIZING AND IMPORTING MEDIA
"A" is for "assets." These are all the raw media files, including video footage, still images, audio clips, and any additional elements such as music or graphics needed to create a video.
The post-production process doesn't start with editing. Before we even open Premiere Pro or After Effects, we create a dedicated folder structure to keep files organized; categorizing them based on project, date, or any other relevant criteria before importing them into our post-production software. This may involve copying files to a specific location or using an import feature within the software
STEP 2: LOGGING AND TRANSCODING (OPTIONAL)
When we have a large amount of footage, we consider logging our media. This involves creating a detailed catalog of clips, including relevant information such as scene numbers, takes, and notes.
Depending on your post-production workflow, you may need to transcode or convert your media files into a format that is compatible with your editing software. Check your software's documentation for recommended formats and settings.
STEP 3: EDITING
Now it's time to open Adobe Premiere Pro, starting a new project by creating a timeline.
Review your footage and select the best takes for each scene or shot.
Arrange the selected clips in the desired order on the timeline to create the basic structure of your project. Once your happy with the flow of your visual narrative, you can refine the edit by trimming or extending clips, adding transitions between shots, and adjusting the pacing and timing of the sequence.
Don't be afraid to experiment with different editing techniques, such as color grading, audio mixing, and adding visual effects, to achieve the desired look and feel. Editing's an art, not an exact science, after all.
STEP 4: VISUAL EFFECTS AND MOTION GRAPHICS
For projects that require visual effects or motion graphics, Adobe After Effects is our go[1]to software. The visual elements or effects needed can include compositing, 3D animations, or motion tracking.
Create or import the required assets and apply the necessary effects to enhance the visual impact of your project.
Ensure that the visual effects seamlessly integrate with the edited footage by adjusting parameters such as opacity, blending modes, and timing.
Just like the editing stage, this often requires a lot of trial-and-error executions and experimentations.
STEP 5: SOUND DESIGN AND MIXING
Also known as sound engineering, this is the stage where you import or record any additional audio elements. These include dialogue, voiceovers, music, and sound effects.
Cleaning up the audio by removing unwanted noise, and/or balancing the sound levels is where audio editing software such as Adobe Audition or Pro Tools come in. Premiere Pro can make audio adjustments too, but not at the same degree as the aforementioned tools.
Since sound completes the entire video experience, we enhance the auditory components by adding ambient sound, sound effects, or music to complement the imagery. Fine-tuning the audio mix, adjusting volume levels, panning, and applying audio effects creates a cohesive and immersive sound environment.
STEP 6: COLOR GRADING AND CORRECTION
Adjusting the overall color balance, exposure, contrast, and saturation goes a long way in achieving the desired look-and-feel. This process is termed as color grading, and it's best executed through industry-standard pro software like DaVinci Resolve or Adobe SpeedGrade to manipulate the color and tone of your footage.
Applying specific color grading looks or styles affects the video's visual appeal. That's why it's crucial to correct any color or exposure issues in individual shots to ensure a seamless visual flow throughout the project.
STEP 7: EXPORTING AND FINALIZING
All good with the final edit? Then you can finally export the project!
The output format will depend on the video's intended use. Is it for web viewing? Traditional broadcast (TV commercials, that is)? Or theatrical release? Make sure to refer to the software's export settings for optimal results.
Done? Not quite. You still need to check the exported file for any technical issues or artifacts by viewing it on different devices and screen sizes.
And that's that. Now you can archive all project files, including the edited sequence, media files, and any associated assets for future reference or revisions.
STEP 8: LEAVE EVERYTHING TO THE STUDIO BRIDGE
Digital post-production is a complex but essential process. You can follow these step-by[1]step instructions . . . or you can trust The Studio Bridge's expertise at transforming raw media into polished and professional content for your brand.